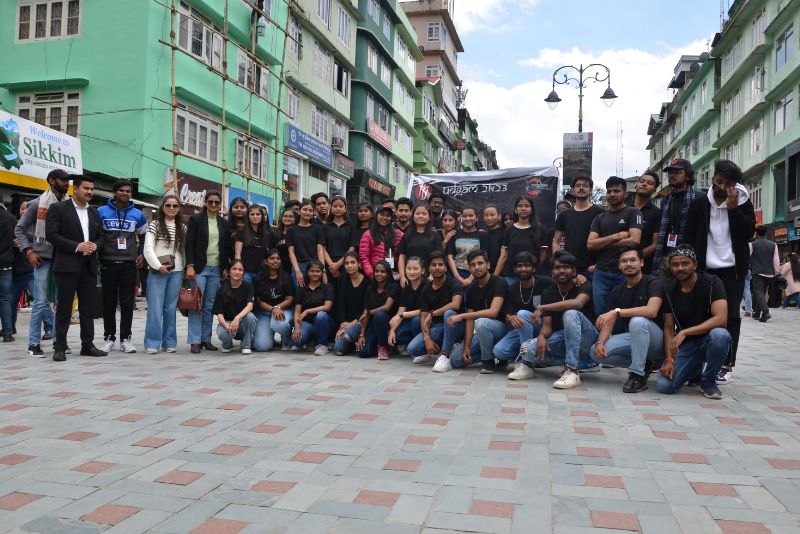 NIT Sikkim Students Stun Gangtok with Flashmob
Gangtok: On April 2, 2023, the bustling streets of MG Marg in Gangtok were electrified by a stunning performance when the students of National Institute of Technology Sikkim put on a spectacular flashmob as part of their annual cultural festival, Udgam'23.
Dance Fusion to Celebrate Diversity and Culture
The performers from NIT Sikkim took the stage by storm, impressing the crowds with their incredible dance moves and impeccable synchronization. The flashmob showcased a fusion of various dance styles and forms, ranging from Bollywood, Nepali, Bhojpuri, Tollywood, and other genres. The vibrant expressions of the dancers added to the beauty of the performance, leaving the audience in awe.
Celebrating Talent and Ingenuity
The flashmob was not just about dance; it was a celebration of diversity and culture, showcasing the creativity and ingenuity of the students. The event brought people from all walks of life together, promoting cultural peace and harmony. The participants' contagious passion and energy made it impossible for anyone to resist partaking in the festivities, while the audience's cheering and applause created a jubilant atmosphere.
UDGAM: A Platform for Cultural Exposure
Culture is an integral part of our lives, shaping our perceptions, views, values, humor, and aspirations. To celebrate this, the National Institute of Technology Sikkim has envisioned UDGAM, an annual cultural fest that aims to provide an unforgettable experience while promoting unity and cohesion.
From 14th April to 16th April 2023, the institute will host UDGAM'23, an exciting event that promises to showcase the diversity and brilliance of our society. As a superb platform for cultural exposure, UDGAM has proven time and again to be an excellent opportunity for students to display their talent, hard work, and dedication.
You may also like: Places to visit in Sikkim
Wrapping up things
The flashmob was a breathtaking exhibition of talent and ingenuity, showcasing the beauty of diversity and culture. The event brought people together, promoting cultural peace and harmony, and demonstrated the power of such celebrations to unite people. Congratulations to the participants and organizers for putting on such a splendid show.
Gangtokian Web Team, 04/04/23