If you want to see the wonders that Sikkim has to offer, then I strongly recommend you read this blog. Though it's the smallest state, its prismatic beauty and mesmerizing charm will make you wonder!
In addition to its obvious charm, Sikkim also offers an engaging list of things to do and places to visit. Listed below are a few of the most attractive sites and best times to visit the state of Sikkim that make for an unforgettable as well as blissful holiday experience:
Suggested Read: Char Dham Sikkim
Gangtok
Anyone who visits Gangtok soon finds it impossible to resist its alluring charm and appeal! A bustling tourist destination, Gangtok is nestled in the Eastern Himalayas at the heart of Sikkim.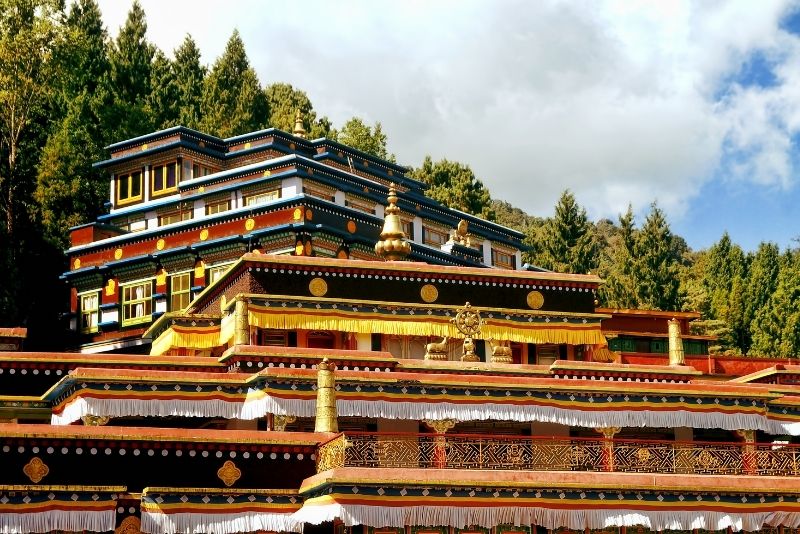 Whatever you are looking for, whether it's a tranquil retreat, lush forests, flowing rivers, or mental serenity, tourist spots in Gangtok will suit your Sikkim holidays. Nature lovers are sure to meet their dreams by spending their vacation in this scenic city. On the other hand, adventure enthusiasts can enjoy cable car rides, river rafting, hiking, biking, and several other activities.
Tips for Gangtok
March to April and October to November are the best times to visit Gangtok. It is advised that you avoid traveling in rainy seasons as it may lead to roadblocks preventing you from enjoying sightseeing.
You can stay at the MG Marg if you like the hustle and bustle of the market. However, if you prefer a tranquil lifestyle, you may choose to stay somewhere else.
When you go to places like Nathula Pass, Baba Mandir, etc., keep in mind that these are higher altitudes, thus lacking oxygen. As a result, the necessary precautions need to be taken before visiting.
Consider consulting your doctor and taking an inhaler under these circumstances, especially if you have breathing problems or are taking medication for vomiting, headaches, and motion sickness.
Gangtok Facts
The nearest airport is Greenfield in Pakyong, East Sikkim. It is only 26.8 kilometers from the city and it takes around 1 hour and 18 minutes to reach Gangtok from there.
At 8,586 meters above sea level, Kanchenjunga Mountain is the third highest mountain in the world.
Gangtok's MG Marg is the first spit and litter-free zone in India.
The International Flower Festival in Gangtok is held every year in May. Different varieties of roses, orchids, alpine creepers, and seasonal flowers are displayed.
Suggested Post: Research Institute of Tibetology, Gangtok
Main Highlights
Rumtek and Enchey are two beautiful Buddhist monasteries located in Gangtok.
The setting is perfect for some serenity and peace.
Nathula Pass and Tsomgo Lake are two of its most beautiful tourist attractions.
Yuksom
This beautiful town is located in Sikkim's western parts and is the start of many exciting treks to the Himalayas and the legendary Kanchenjunga. It used to be Sikkim's capital, but these days it is renowned for its natural beauty and rustic appeal.
This Sikkimese village, also known as the 'Meeting place of Three Lamas,' has recently gained tourism attention. Well, this also explains why you will be amazed at Yuksom's untouched nature and pristine beauty. Home to one of Sikkim's oldest monasteries, this pictorial hamlet is a quiet and serene place to be in Sikkim.
Yuksom Tips
Being at a moderate altitude, Yuksom's weather remains pleasant all year long. It is best to visit from March to June, and September and October.
Yuksom has an accessible motorway, but during the rainy season traveling by public transportation can be difficult.
Yuksom Facts
During the 18th century, Yuksom was Sikkim's first capital. It was the coronation place of Sikkim's first Chogyal (King) in 1641.
Sikkim's first Buddhist monastery, the Dubdi Monastery in Yuksom, was founded by Chogyar Namgyal in 1701.
Main Highlights
This historical town is blessed with jaw-dropping beauty.
Yuksom is an ideal gateway to Mt. Kangchendzongha.
Trails of Yuksom are enthralling.
Historical monuments, monasteries, waterfalls, and lakes are some of the main highlights of the town.
Suggested Post: A Slice of Heaven
Changu Lake (Tsomgo)
Don't miss the chance to visit the Tsomgo Lake or Changu Lake during your visit to Gangtok! It is located at an altitude of 12,400ft, just 38km from Sikkim's capital.
Even though Tsomgo remains frozen during the winter, summer brings with it a magical charm and appeal. It is a special time of the year when the lake's blue water reflects the panoramic views of nearby peaks and the blue sky!
Changu Lake Tips
A day trip to Changu Lake from Gangtok is recommended, so one should leave early in the morning so they can get there in time and enjoy the views.
Tsomgo Lake Permit: Tourists must obtain a special area permit to visit the lake. You can get it from Sikkim Tourism's office at MG Marg Gangtok or you can ask your travel agent to do it. Identity proof and two passport size photos will be required for the Tsomgo Lake Permit.
Be aware of snow blocks during the winter season.
Changu Lake Facts
One of the largest lakes in India, Changu Lake is set at an elevation of 3,753 meters.
People consider this lake sacred and believe that its water has medicinal value.
At different times of the year, the lake's surface reflects various colors, so it is even more fascinating.
The lake remains frozen throughout the winter months.
Additionally, the Tsomgo Lake site hosts the Guru Poornima festival.
Main Highlights
Trekking along the lakeshore in the winter, ice skating on the thick layer of ice, and yak riding on the frozen lake are some of the favorite winter activities for visitors.
It is gratifying to see Primula flowers and other alpine plants growing next to the lake in the summer and fall.
During October, bird watchers flock here for a glimpse of the lake's native birds.
Suggested Read: Changu's Fun Fact
Credits: Sikkim Tourism
Do you have a recommendation to share with the world? Please write to us at contact@gangtokian.com