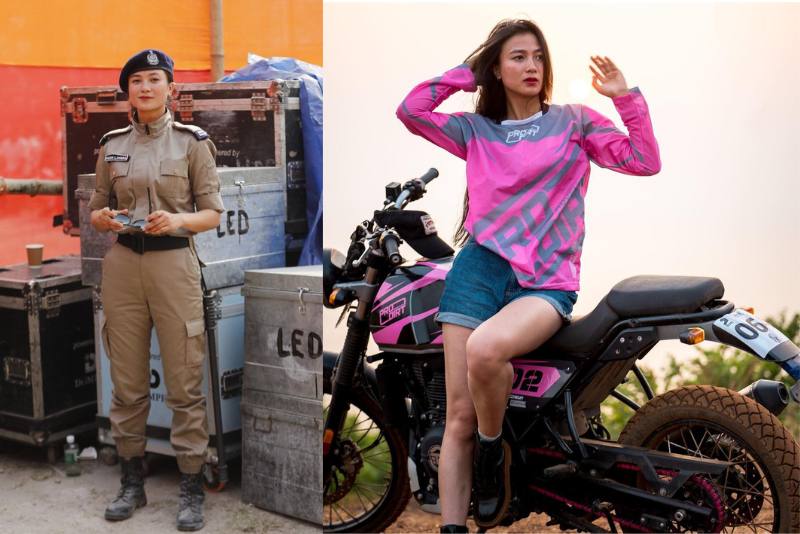 Meet Eksha Kerung
Meet Eksha Kerung, the beautiful and talented cop from Sikkim who's creating a buzz in the fashion industry and beyond. From being a supermodel and national-level boxing champion to becoming the new face of Maybelline India, Eksha's rise to success is nothing short of extraordinary. Her unique style, empowerment, and progressive thinking make her a symbol of inspiration and empowerment for women everywhere. Join us as we delve into Eksha's journey, accomplishments, and fashion-forward thinking, and discover why she's a force to be reckoned with in the fashion world and beyond.
Supermodel and National-level Boxing Champion
Eksha's journey to the fashion world began when she debuted on MTV Supermodel Of The Year Season 2, fulfilling her dream of being on the show. Though she didn't win the title, she won the hearts of millions with her impeccable style and confidence. Her passion for fashion is evident in her off-duty looks, where she effortlessly rocks trendy ensembles like off-the-shoulder white tops and black jeans, or a modern-day Tomb Raider-inspired outfit with denims and beige boots.
But Eksha is not just a pretty face. She's also a national-level boxing champion, thanks to her father's recommendation to take up the sport to stay fit. Her dedication and hard work paid off, and she joined the police force at the age of 19, becoming a part of the Sikkim State Reserve Police. Her commitment to her work and love for her job are evident in her proud demeanor, and she's often seen in her cop girl avatar, with fans commenting, "My borders are in safe hands."
Bossy Biker Lady and Maybelline India's New Face
Kerung's versatility doesn't end there. She's also a bossy biker lady, flaunting her swag and rakish good looks while riding hot wheels. Her punk attitude is reflected in her wardrobe, where she's seen experimenting with pink latex and other edgy fashion choices, much to the approval of her followers. She's also known for her feminine and untomboyish style, effortlessly switching from bikeroo mode to stunning sarees, where she looks absolutely breathtaking.
Recently, Eksha joined the likes of Suhana Khan, Ananya Birla, and P V Sindhu as one of Maybelline's new India faces, being a part of the cosmetic giant's 'sensational squad'. Her unique and diverse background, coupled with her stunning looks and confident personality, make her a perfect fit for the brand. Eksha's rise in the fashion industry has been nothing short of meteoric, and she continues to break barriers and challenge norms with her individuality and style.
Eksha Kerung: A Symbol of Empowerment and Fashion-forward Thinking
Her success is not only limited to her fashion endeavors, but it's also a testament to her empowerment and progressive thinking. She's a symbol of breaking stereotypes and shattering glass ceilings, proving that women can excel in any field they choose, be it fashion or law enforcement. Her journey inspires young girls and women to dream big, work hard, and embrace their unique identities.
You may also like: Buzz Behind Palestinian Thobe Dress
Fashion is Time Travel
Eksha's fashion choices are as diverse as her accomplishments. From traditional sarees that showcase her Sikkimese heritage to old Hollywood-inspired ensembles, she effortlessly travels across continents and eras with her style. Her delectable white crochet outfit reminiscent of Bayview, and her blood red poncho paired with a skimpy skirt that bewitch Bambai Nagariya, are just a few examples of her impeccable taste in fashion.
Wrapping up things
The multi-talented and charismatic Sikkim cop, has captured the hearts of many with her journey as a supermodel, police officer, and national-level boxing champion. Her passion for her work, her unique style, and her growing popularity as a youth icon and fashion trendsetter have made her a force to be reckoned with. As she embarks on new adventures as one of Maybelline's India faces and continues to break barriers in the fashion industry, Eksha Kerung's star is undoubtedly on the rise, leaving us all eagerly anticipating what she will do next.
Gangtokian Web Team