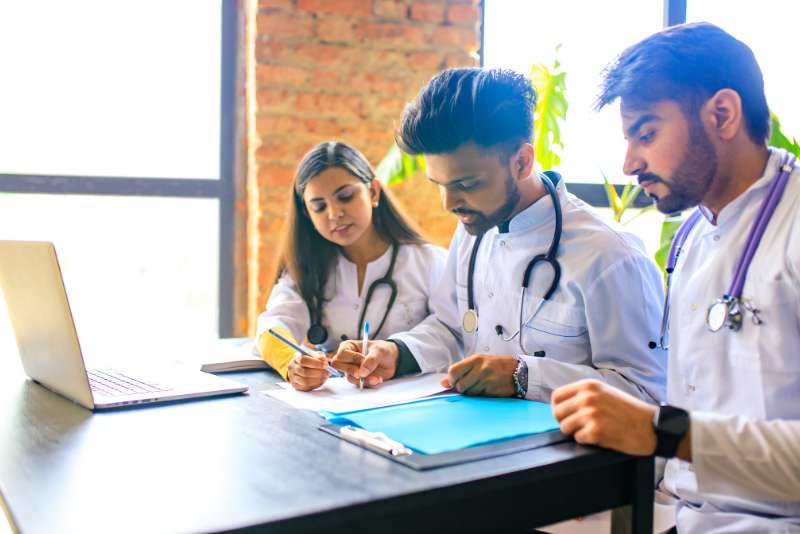 Gangtokian News Desk – In a significant development, the Ministry of Health and Family Welfare has announced a drastic reduction in the cut-off percentile for the National Eligibility-cum-Entrance Test for Postgraduate (NEET PG) to zero percentile. This move, intended to address the issue of vacant postgraduate medical seats, has sparked a heated debate within the medical community, with some hailing it as a lifeline for aspiring doctors and others condemning it as a mockery of medical education standards.
A Radical Shift in NEET PG Cut-off
Until now, the minimum qualifying score for NEET PG stood at 50 percentile for general category students. This meant that candidates had to score better than 50% of the total test-takers to qualify for the examination. Once qualified, candidates could choose their seats in various medical specialties based on cutoff scores and seat availability.
However, the latest notification from the Medical Counselling Committee of India, issued on September 20, 2023, states that the qualifying percentile for NEET PG Counselling 2023 has been lowered to 'ZERO' across all categories.
Diverse Reactions from Medical Fraternity
I completely disagree with the bizarre circular released by @MoHFW_INDIA of removing cut off bar from#NEETPG. @PMOIndia – it is only going to promote corruption and high fee in pvt medical colleges.
It is Shameful tht any medical body supported this step of zero percent merit.… pic.twitter.com/emv6crDBYw

— Dr. Rohan Krishnan (@DrRohanKrishna3) September 20, 2023
The move has elicited mixed reactions from medical professionals and associations. The Federation of Resident Doctors in India (FORDA) welcomed the decision, asserting that it would provide much-needed relief to medical students who have been grappling with uncertainties. The Indian Medical Association (IMA) also supported the move, emphasizing that it would help fill postgraduate seats across the country.
However, dissenting voices within the medical community argue that this shift will have adverse consequences. Dr. J.A. Jayalal, a former IMA president, termed the decision "disastrous" and expressed concerns that it would destabilize the medical field.
It is disastrous to know announcement by the MOH on NEET PG eligibility mark as Zero. why the hell you conducted the exam? Why do you want to destabilise medicine ? Convert all lapsed seats as Govt seat, in no time all seats will be filled up by meritorious students . Shame pic.twitter.com/dkxv8e3mj1

— Prof. Dr. J.A. Jayalal (@jayalal10) September 20, 2023
Private Colleges Benefit, Critics Allege
Critics of the decision argue that it will disproportionately benefit private medical colleges, potentially leading to an increase in corruption and exorbitant fees. They contend that the reduction of the cut-off to zero percentile will allow candidates with low scores to effectively purchase seats, further inflating the cost of medical education in private institutions.
For becoming a specialist doctor in India you need #ZERO percentile in #NEET PG . MONEY hai to honey hai . Sad state of Indian medical education.
If SEATS remains vacant even after round 3 counseling then convert them into govt seats trust me Not even a single seat will remain… pic.twitter.com/av6oDJLWxy

— Dr Manoj Chaudhary (@MK_Chaudhary04) September 20, 2023
Calls for Converting Vacant Seats to Government Colleges
Some doctors who oppose the cut-off reduction suggest an alternative solution to address the issue of vacant seats. They propose converting vacant seats in private colleges into government college seats, arguing that this would eliminate the need to lower the percentile and ensure that qualified candidates fill the positions.
What Lies Ahead
As the debate over the NEET PG cut-off reduction rages on, the fate of medical education in India hangs in the balance. The Ministry of Health and Family Welfare's decision, while aimed at addressing the issue of vacant seats, has triggered a contentious discussion within the medical community, raising questions about the future of medical education, affordability, and accessibility.
Candidates affected by the change in the cut-off will have the opportunity to participate in Round-3 of PG Counselling, with a fresh schedule set to be released soon on the Medical Counselling Committee (MCC) website. The situation continues to evolve, and stakeholders will be closely monitoring the outcomes of this significant policy shift in medical education.
For further updates, candidates are advised to stay connected with the MCC website.
This article is based on the latest developments in the NEET PG cut-off policy and presents a balanced overview of the diverse opinions within the medical community. It is essential to closely follow the evolving situation for the most up-to-date information.
You may also read: Criteria To Choose The Best DevOps Course In Hyderabad
Gangtokian Web Team, 21/09/23