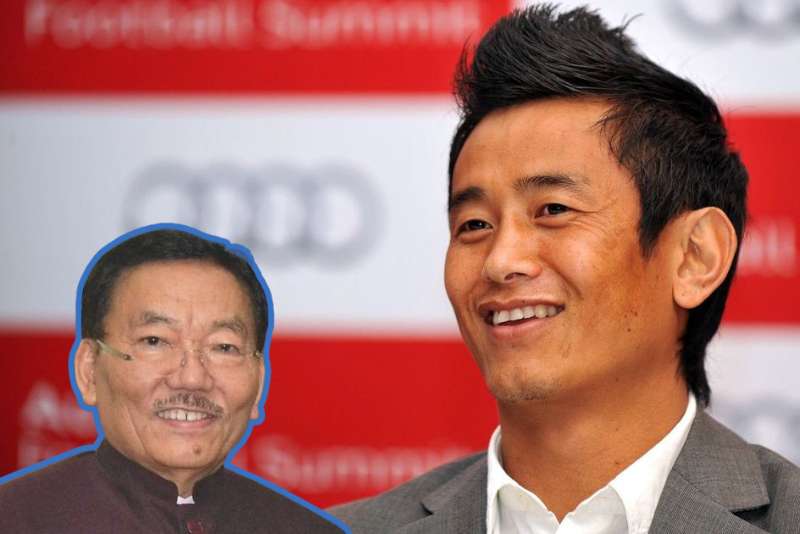 Gangtok: The political arena of the Himalayan state of Sikkim is abuzz with anticipation as Bhaichung Bhutia, the iconic footballer-turned-politician, officially announced his decision to join the Sikkim Democratic Front (SDF) on Wednesday. The move has brought an end to a week-long speculation that had gripped the state's political circles.
A Brief Stint with Hamro Sikkim Party
Bhaichung Bhutia had been at the forefront of the Hamro Sikkim Party (HSP) since 2018 when he assumed the role of its working president. However, despite his efforts, the party was unable to secure any seats in the 2019 state elections.
The footballer-turned-politician is now preparing to merge the Hamro Sikkim Party with the SDF. He emphasized that this merger will not occur immediately, as discussions with other party members and leaders are ongoing. "There are still some leaders to meet, and the merger of the two parties will take some time. I have not set a date for joining the SDF or the merger yet; that will happen after thorough discussion," Bhutia stated.
A Shift in Alliances
In the run-up to the 2019 elections, Bhaichung Bhutia had thrown his support behind the ruling Sikkim Krantikari Morcha (SKM) and had held meetings with the present Chief Minister, Prem Singh Golay. However, he now alleges that the promises of change made by SKM have faltered, with corruption seeping into the party's ranks. Bhutia asserted, "They are now full of corrupt leaders and businessmen who in the past ruined the 25-year rule of the SDF party."
Explaining his choice to join the SDF, Bhutia noted, "Following the exit of corrupt leaders, SDF has now cleansed itself of corruption. For a long time, SKM criticized Chamling as a corrupt leader, but in the four years since, SKM has not been able to file a single corruption case against Chamling, demonstrating that he is free from corruption."
He added, "Besides, in these 4 years as an opposition, perhaps SDF is the only party that has spoken for Sikkim, as evidenced by their call for 'Save Sikkim.' Bhaichung and SDF will be like Messi and Argentina, working together to win the World Cup."
Reconciliation and Changing Perspectives
While Bhutia and Chamling had criticized each other in the past, Bhutia explained, "At that time, criticizing SDF and Chamling was necessary, as they had been thoroughly corrupted. Sikkim needed change, and it happened. But now we understand that Chamling was not entirely wrong; it was merely corrupt leaders."
He acknowledged that he had faced criticism when he contested elections in West Bengal under the Trinamool Congress banner but highlighted that he stood as one of the few leaders from Sikkim who had contested in two states. He expressed doubt about Golay's prospects, stating, "I can't say about Chamling, but in terms of Golay, I can declare that he will not be able to get even a Panchayat ticket from any other state."
Why Not Other Parties?
When asked why he had not chosen to join the Citizen Action Party or the BJP, Bhutia responded, "SDF is perhaps the only party that has spoken against the Centre's stand on the Finance Bill 2023, which led to the dilution of Sikkimese identity and Article 371F. They are the only party currently opposing the Centre, which is why I preferred to join SDF."
He criticized the Citizen Action Party's lack of clarity on their stance regarding the Centre's actions related to the February Immigrant row, where Sikkimese Nepali were termed as foreigners. Bhutia opined, "Making it evident that they are aligned with BJP, and we know how CAP as a party is being funded currently. I am not against BJP but against the Centre's stand over the dilution of Sikkimese identity, hence there was no way I would join the BJP."
Criticism of Chief Minister Golay
Taking a swipe at Chief Minister Prem Singh Golay, Bhaichung Bhutia said, "When jokers are in charge of the State, the State becomes a circus. Same status in Sikkim as we have given power to the jokers. Golay is good at heart but doesn't have a brain to run the government." He noted Golay's initial clean image upon returning from jail but claimed that he had since aligned himself with corrupt businessmen, leading to the party's rapid enrichment and a corresponding erosion of integrity.
Similar Read: Panchayati Raj Issues in Sikkim Highlighted by Citizen Action Party – Sikkim
Controversy Surrounding HSP's Legacy
In six years, HSP had merged with former Chief Minister late Nar Bahadur Bhandari's Sikkim Sangram Parishad when the party lost its electoral symbol and flag. Bhaichung Bhutia had then adopted SSP's red and white colors as HSP, pledging to continue Bhandari's legacy. However, news of Bhaichung's impending merger with the SDF drew criticism from late Bhandari's daughter, Primula Bhandari.
Bhaichung defended his move, stating, "We have used the colors of SSP but never used their flags or any other party identity. The party flag and identity still stand with two former SSP Vice Presidents." He also noted that SSP remains intact with its former leaders, despite losing its status as a political party last year.
Gangtokian Web Team, 14/09/23