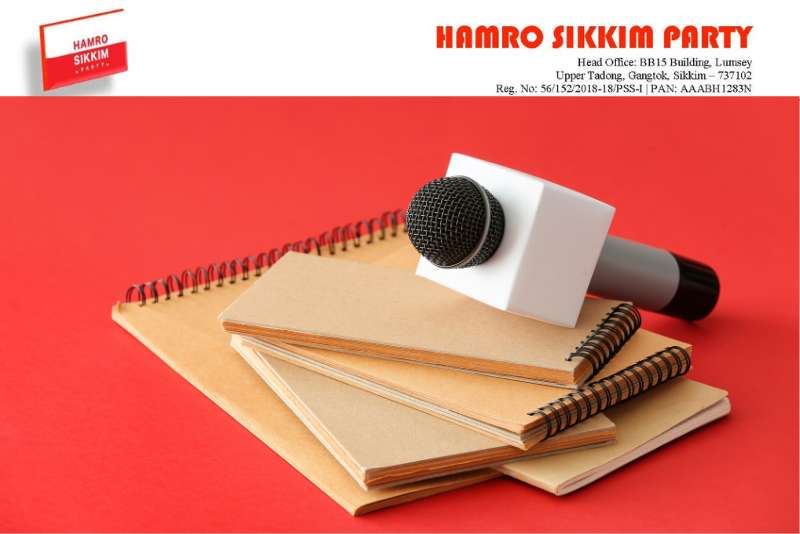 Press Release: During the Sikkimey Ekta Yatra organized by the Hamro Sikkim Party (HSP), numerous government employees approached Bhaichung Bhutia, highlighting their grievances regarding injustices and unfair treatment by the current government towards government employees.
Key concerns raised by the employees include:
𝟏. 𝐃𝐞𝐥𝐚𝐲𝐞𝐝 𝐏𝐫𝐨𝐦𝐨𝐭𝐢𝐨𝐧𝐬:
Many eligible employees are being overlooked for promotions based on seniority, while the SKM government demonstrates favoritism by promoting relatives and individuals with close ties to the administration.
𝟐. 𝐔𝐧𝐟𝐚𝐢𝐫 𝐓𝐫𝐚𝐧𝐬𝐟𝐞𝐫 𝐚𝐧𝐝 𝐏𝐨𝐬𝐭𝐢𝐧𝐠 𝐏𝐫𝐚𝐜𝐭𝐢𝐜𝐞𝐬:
Nepotism, favoritism, and corruption appear rampant in the transfer, posting, and regularization of government employees. Those who align with the government's interests are favored, while those remotely associated with opposition groups are subjected to remote or undesirable postings, leading to harassment.
𝟑. 𝐒𝐮𝐩𝐩𝐫𝐞𝐬𝐬𝐢𝐨𝐧 𝐨𝐟 𝐅𝐮𝐧𝐝𝐚𝐦𝐞𝐧𝐭𝐚𝐥 𝐑𝐢𝐠𝐡𝐭𝐬:
The recent 𝐓𝐚𝐥𝐢𝐛𝐚𝐧𝐢 DoP (Directorate of Personnel) order issued on 10th February 2023 has curtailed the fundamental right to freedom of expression, as enshrined in Article 19 of the Indian Constitution. This order prevents government employees from voicing their concerns against any wrongdoing by the government. Similar orders have been struck down by the Rajasthan and Jharkhand High Courts in the past. Instead of establishing a robust whistle-blower policy, the current government stifles the voices of government employees and penalizes them for expressing their opinions.
𝟒. 𝐏𝐫𝐞𝐬𝐞𝐧𝐜𝐞 𝐨𝐟 𝐄𝐦𝐩𝐥𝐨𝐲𝐞𝐞𝐬 𝐰𝐢𝐭𝐡 𝐅𝐚𝐤𝐞 𝐃𝐨𝐜𝐮𝐦𝐞𝐧𝐭𝐬:
Disturbingly, it has come to our attention that several government employees secured their employment through the use of forged COI, educational qualification documents, Voter IDs, category certificates, etc.
𝟓. 𝐋𝐚𝐜𝐤 𝐨𝐟 𝐍𝐞𝐜𝐞𝐬𝐬𝐚𝐫𝐲 𝐁𝐞𝐧𝐞𝐟𝐢𝐭𝐬:
Government employees face a lack of comprehensive government-backed health insurance schemes, the freezing of dearness allowances citing COVID-19, and insufficient support for securing housing and other loans. Despite their significant contribution to Sikkim's development, this government seems to prioritize only those loyal to their party and financiers, neglecting the well-being of other employees.
The HSP strongly demands that the current government address these pressing issues and resolve them before facing defeat in the upcoming 2024 elections. We firmly believe that the SKM party will fail to secure even a single seat in 2024.
Furthermore, the HSP promises the following to all government employees if elected to power in 2024:
𝟏. Introduction of an Act in the assembly to ensure fair transfer and posting procedures for government employees. This act will establish a transparent process, eliminating the arbitrary powers of secretaries, individual officers, and ministers to conduct transfers based on favoritism, nepotism, and corruption.
𝟐. Repealing the DoP circular no: 598/GEN/DOP dated 10-02-2023 to protect freedom of expression for every Sikkimese. No future government will have the authority to terminate or penalize employees solely based on their social media opinions.
𝟑. Implementation of a robust whistle-blower policy to encourage employees to expose corruption or wrongdoing within government departments or by officials, providing them protection from any form of retaliation.
𝟒. Prompt release of pending dearness allowances and subsequent adjustments to align with current price rises. We will ensure that government employees receive necessary benefits equivalent to those enjoyed by central government employees.
𝟓. Conducting a thorough verification drive to weed out any individuals holding positions with fraudulent documents, addressing the issue from the grassroots to the highest levels.
𝟔. Establishment of an anti-corruption committee, comprising retired officials from agencies such as the Enforcement Directorate (ED), Central Bureau of Investigation (CBI), and Income Tax department, overseen by a retired Supreme Court or High Court Judge, to investigate corruption cases within the current government.
The HSP remains committed to fighting for the rights and welfare of government employees and upholding the principles of justice, transparency, and accountability.
𝐅𝐨𝐫 𝐇𝐚𝐦𝐫𝐨 𝐒𝐢𝐤𝐤𝐢𝐦 𝐏𝐚𝐫𝐭𝐲,
𝐁𝐢𝐫𝐚𝐣 𝐀𝐝𝐡𝐢𝐤𝐚𝐫𝐢
𝐆𝐞𝐧𝐞𝐫𝐚𝐥 𝐒𝐞𝐜𝐫𝐞𝐭𝐚𝐫𝐲
Gangtokian Web Team, 09/07/23