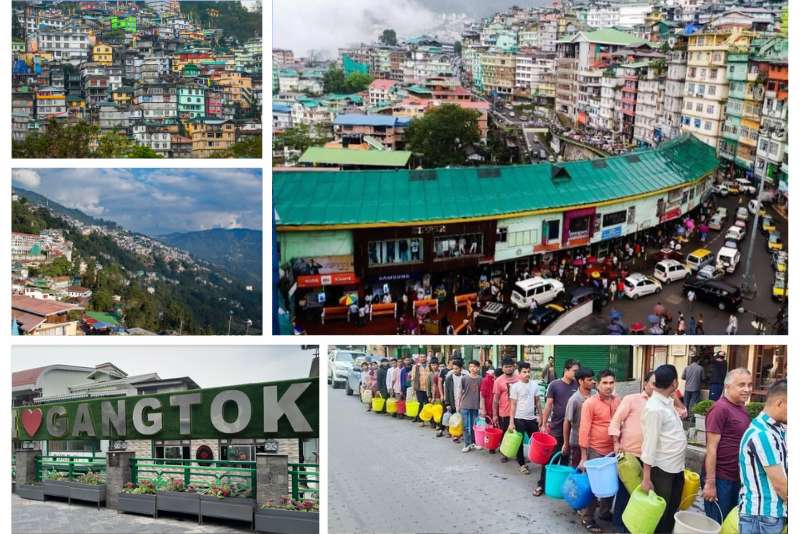 Gangtok: The capital city of Sikkim, is grappling with a severe water shortage following a landslide triggered by a cloud burst in April. The crisis has been compounded by an unusual heatwave that has hit the hilly state, with temperatures soaring 3 to 5 degrees above normal in many areas.
The landslide, which occurred at 9th Mile, caused significant damage to the city's water supply system. Chetraj Mishra, Chief Engineer of the Public Health Engineering (PHE) Department, explained that the landslide destroyed seven water lines, including three 14-inch pipelines and four six-inch pipelines. Temporary repairs have been carried out, and permanent restoration work is currently underway.
During the crisis, water tankers were deployed to supply water to households, drawing from springs and rivers in the lower belt of Gangtok. Residents had to queue up with buckets to collect water, highlighting the gravity of the situation.
Ratey Chu, the main water source for Gangtok, originates from the glacier-fed Lake Tamze. Water from Ratey Chu is treated at the Selep Tanki Treatment Plant before being distributed to the city. However, this is not the first time natural disasters have disrupted the water distribution system in Ratey Chu. In 2010, severe landslides damaged the pipes, causing water supply restrictions and prompting tourists to leave Sikkim.
Adding to the challenges, Sikkim is experiencing an unprecedented heatwave this year. Gopinath Raha, a Meteorologist from IMD Sikkim, stated that since May, the state has witnessed heatwaves, which is highly unusual for a hilly region. On June 7, Gangtok recorded a temperature of 32 degrees Celsius, the highest ever for the month of June. Hill stations across Sikkim have seen temperatures 3 to 5 degrees Celsius above normal, making them more vulnerable to rising temperatures.
Omi Gurung, a social entrepreneur, attributes the changing climate patterns in Gangtok to deforestation. Recent tree felling in the city has contributed to the erratic climate changes. Last year, protests erupted when a 100-year-old Banyan tree was cut down for development purposes. The Sikkim High Court intervened and issued directions to address indiscriminate tree felling under the Gangtok Smart City Project.
Usha Lachungpa, a naturalist and retired Principal Chief Research Officer, emphasized the unique geology of the Himalayas, which makes repairing water pipelines challenging after landslides or earthquakes. She also highlighted that areas in South Sikkim are prone to drought and face perennial water shortages. With the ongoing road construction, the natural percolation of water is hindered, underscoring the importance of preserving green hilltops that act as natural water catchments.
The growing tourism industry, while a significant source of revenue for Sikkim, has exacerbated the water crisis. Hotels and resorts consume substantial amounts of water to cater to tourists, further straining the already limited resources. Lachungpa emphasized that the Himalayas are among the first regions impacted by climate change, with factors like black carbon settling on snow due to tourist vehicles passing through the area.
Also Read: Melting Glaciers in Himalayas Threaten Lives and Livelihoods of Billions, Study Warns
Gangtokian Web Team, 29/06/23