In the realm of corporate magnates, the name Anil Ambani resonates profoundly. The Chairman of the Reliance ADA Group, Anil Ambani, has etched his legacy as one of India's and the world's eminent corporate tycoons. However, the tides of financial fate have dealt him a drastic blow in recent years, painting a stark narrative of rags replacing riches. Anil Ambani's journey intertwined with the Reliance Group's financial services sphere in the late 1980s, a phase that witnessed the genesis of his foray into an array of industries.
Early Years of Triumph
Born into the opulence of the Ambani family, Anil Ambani embarked on his journey with unbounded financial resources. The late 1980s ushered him into steering the financial services arm of the Reliance Group, an endeavor that laid the foundation for his multifaceted career. His pivotal role in the group's entry into the telecom sector culminated in the establishment of Reliance Infocomm in 2002, swiftly catapulting it into one of India's premier telecom providers. His influence extended into the power sector, marked by the inception of Reliance Power, thus sculpting his financial worth.
The Ascent and Descent of Anil Ambani's Net Worth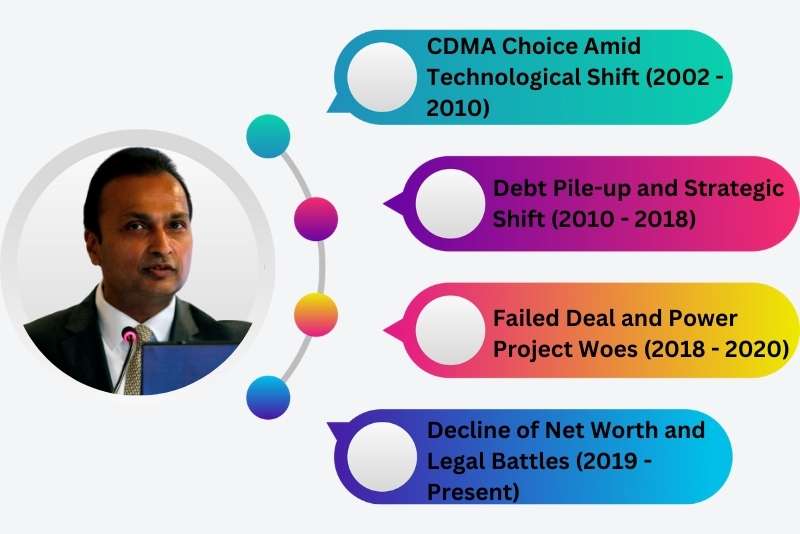 In 2008, Anil Ambani's net worth, an impressive $42 billion, mirrored his business successes, positioning him among the world's wealthiest individuals. However, the tide of fortunes shifted post the 2008 global financial crisis, casting shadows over the group's investments spanning infrastructure, electricity, and telecommunications. The 2010 court dispute with his older brother Mukesh Ambani became a harbinger of his empire's decline, even though it eventually concluded.
The turmoil escalated with the 2G scandal and CBI inquiry, resulting in a drastic net worth plummet to $8.8 billion in 2011. Reliance Power's struggles in 2013 further eroded his net worth to $5.2 billion. The ensuing years witnessed a cascade of misfortunes, culminating in 2016 with mounting debts and operational strife, slashing his net worth to $2.5 billion. Despite a marginal recovery to $2.8 billion in 2018, the Supreme Court's order for Reliance Communications to pay dues catalyzed a domino effect.
The Unfolding Reality
In a pivotal turn of events, Mukesh Ambani's intervention through a 4.5 billion bailout in 2019 staved off potential bankruptcy. Despite this, Anil Ambani's net worth dwindled to approximately $500 million in 2020, relinquishing his status as a billionaire. A legal maelstrom ensued with major Chinese banks, as allegations of loan defaults emerged, piling on financial distress. Anil Ambani's claims of possessing no wealth were countered by undeniable possessions, such as a lavish Mumbai mansion, a fleet of cars valued at Rs 20 crore, and an array of luxurious boats and private jets.
The True Worth Revealed
Amidst this turmoil, a clear picture emerges: Anil Ambani's net worth is not reduced to zero rupees. His current investments and assets exceed $83 million, affirming that his financial standing is far from insolvency. This revelation underscores the complexity of financial narratives, exposing the intricate web of wealth, investments, and possessions that belie simplified narratives.
As Anil Ambani navigates this challenging chapter, his elder brother Mukesh Ambani's ascent to the ranks of the world's top 10 richest individuals offers a striking contrast. Mukesh Ambani's estimated net worth of $83.4 billion emphasizes the divergent paths of two brothers who once stood on similar financial pedestals.
A Cautionary Tale
Anil Ambani's journey from riches to turbulence serves as a powerful testament to the unpredictable and capricious nature of the economic realm. It serves as a cautionary tale, echoing the swiftness with which financial trajectories can be reshaped. In the tapestry of Anil Ambani's life, the complexities of business ventures, familial dynamics, and global economic shifts converge, offering a lesson in resilience, adaptability, and the perpetual oscillation of fortune.
You may also read: Is Shark Tank India worth the hype?
Gangtokian Web Team