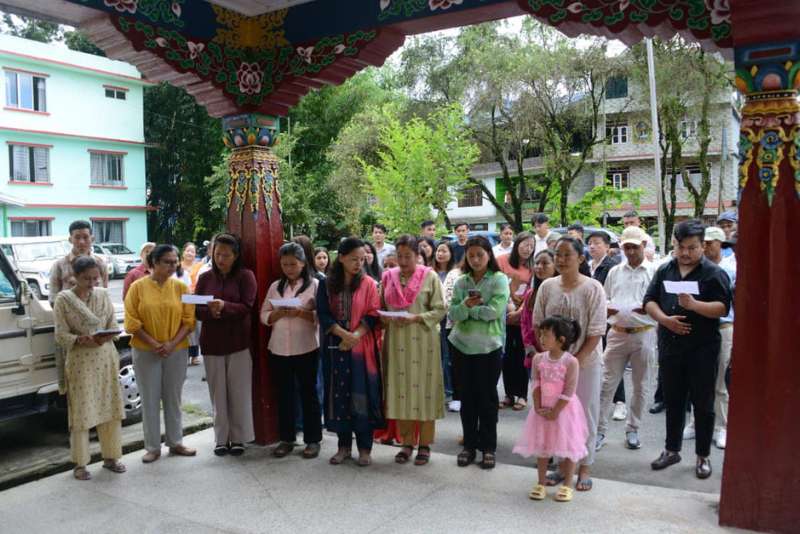 Gangtok: In a significant display of commitment to national progress, government offices across Sikkim have taken the 'Panch Pran' pledge, aligning themselves with the principles vital for the advancement of the nation.
Under the auspices of the 'Meri Maati Mera Desh' campaign, a concluding initiative of the 'Azadi ka Amrit Mahotsav' commemorating India's 75 years of independence, this pledge underscores values such as unity, reverence for India's heritage, and citizen responsibilities.
Honoring Freedom Fighters and Fostering Values
The 'Meri Maati Mera Desh' campaign unites diverse government officials, from the chief secretary to district collectors, who partook in the pledge across various administrative centers, schools, and institutions. Chief Secretary V.B. Pakhak administered the pledge at the Tashiling Secretariat, affirming the commitment to transform India into a developed nation by 2047, eradicate the vestiges of a subservient mentality, take pride in India's cultural heritage, uphold unity, solidarity, and fulfill civic duties.
District Collector Tushar Nikhare, Zilla Adhakshya Balaram Adhikari, and the Gangtok district administration also embraced this commitment to service, integrity, and the nation's development.
District Collector's Perspective
In his address, District Collector Nikhare acknowledged the relentless endeavors of the district administration team. Emphasizing the significance of teamwork, he expressed gratitude for the collective devotion to progress.
Symbolic Tribute and Youth Engagement
The 'Meri Maati Mera Desh' campaign goes beyond symbolic gestures. It includes the collection of soil from diverse areas to create an 'Amrit Vatika,' a special garden in the national capital. Five youth representatives will carry the soil from Gangtok district's various GPKs to New Delhi.
Raj Bhavan's Enthusiastic Participation
Officers and staff of Raj Bhavan demonstrated unwavering enthusiasm in participating in the 'Meri Maati Mera Desh' campaign and taking the Panch Pran pledge. The pledge was administered by Raj Bhavan Secretary J.D. Bhutia.
Secretary Bhutia stated, "Through the 'Meri Maati Mera Desh' campaign, Raj Bhavan Sikkim pays tribute to the courageous armed forces dedicated to safeguarding our nation. Moreover, we, the officers and staff of Raj Bhavan Sikkim, consider it a privilege to be engaged in this campaign."
Wide-spread Participation Across Districts
The momentum extended to various corners of Sikkim. Soreng district administration embraced the 'Meri Maati Mera Desh' spirit by taking the 'Panch Pran' pledge in the DAC premises, with District Collector Bhim Thatal as the administering authority.
The pledge resounded across different sectors – from block administrative centers, Panchayati Raj institutes, hospitals, and police stations to schools and other establishments under the district.
Upholding the Pledge
District Collector Tashi Chophel administered the 'Panch Pran' pledge at Pakyong district administrative center. Secretary Karma D. Youtso performed the pledge administration for the officers and staff of the Information and Public Relations department at Soochna Bhawan. ADC Sonam Topgay Tashi led the pledge at the district administrative center in Mangan.
The 'Panch Pran' pledge became an integral part of the day's agenda in numerous state government offices across the region.
Also Read: BJP Urges CBI Investigation into Padam Gurung's Death in Sikkim
Gangtokian Web Team, 19/08/23