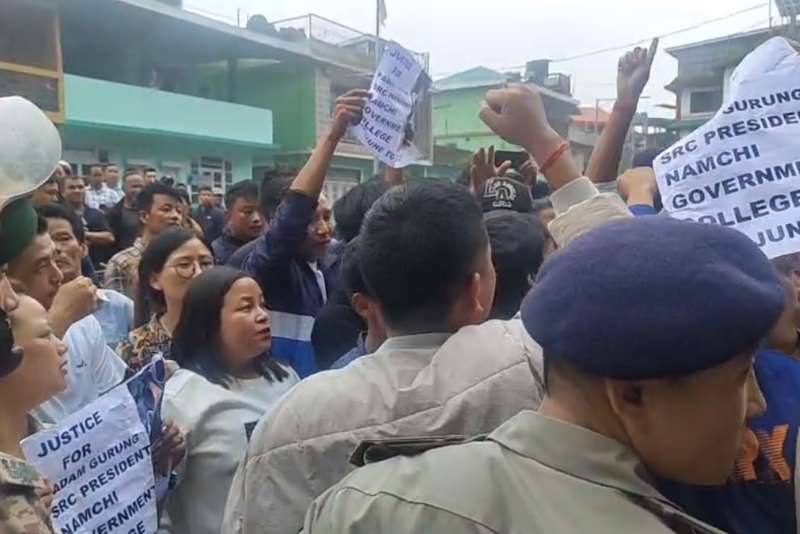 Namchi: A protest unfolded in Namchi town on Friday as members of the Gurung community expressed their concern over the death of Padam Gurung, announcing a cash prize of Rs 1 lakh for any evidence that could lead to the arrest of the perpetrators.
The protest, attended by Padam Gurung's family, representatives from the Gurung community, and members of the public, commenced from Bhanjyang road and encircled Namchi town. Eventually, the demonstrators blocked the State Highway at the critical junction of Kazitar syndicate, where vehicles from across the state converge.
During the protest, some participants scrutinized the drain where Padam Gurung's body was discovered, casting doubt on the possibility of him being swept away by the water due to his size. The protesters questioned the efficacy of the police investigation, firmly believing that Padam Gurung was the victim of foul play.
In an official statement, the Gurung community pledged a cash reward of Rs 1 lakh to individuals willing to provide evidence and information to the Sikkim Police and the general public regarding the suspected murder of Padam Gurung. They urged the police to conduct a thorough investigation and ensure that justice is served.
The peaceful protest concluded after the police agreed to hold discussions with the demonstrators to address their concerns. The police emphasized their commitment to leaving no stone unturned in their quest to apprehend Padam Gurung's killers and appealed to anyone with relevant information to come forward.
Prem Gurung, elder brother of Padam Gurung, expressed his gratitude to the residents of Namchi for participating in the rally. He highlighted the delay in receiving the assessment from the Special Investigation Team (SIT), which had set July 12 as the deadline. He also mentioned the commencement of the judicial inquiry on July 13, initiated by Chief Minister PS Golay, and expressed uncertainty about its duration. Promising to fight for justice, he warned of organizing a similar state-wide protest if the judicial inquiry fails to meet their expectations.
Subash Gurung, representing the Gurung community, affirmed their commitment to solving the case by declaring, "If any citizen provides information that helps solve this case, both citizens and the Gurung community will contribute to the one lakh cash prize. We are grateful to the Chief Minister for initiating a judicial inquiry, and we maintain unwavering faith in the Special Investigation Team."
Also Read: Family Suspects Foul Play in Padam Gurung's Mysterious Death, Sikkim Police Launches Investigation
Gangtokian Web Team, 15/07/23