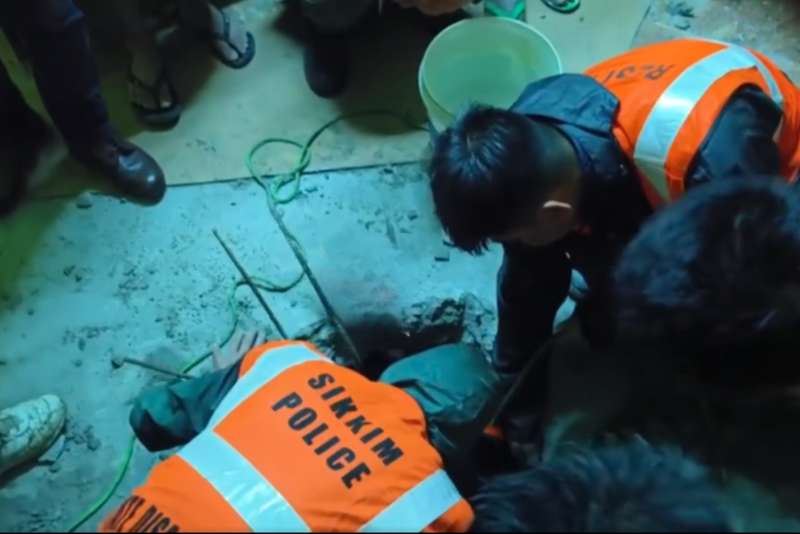 Gangtokian News Desk: In the early hours of October 4, a catastrophic breach of the Chungthang Hydro-Dam in Sikkim led to flash floods that have wreaked havoc in the region. The incident has not only disrupted communication networks but also sparked concerns about the safety of large-scale infrastructure projects in the area.
Flash Floods and Evacuations
The flash floods, triggered by a glacial lake outburst flood from the South Lhonak Lake in North Sikkim, rapidly spread to other districts, causing significant damage to public property and infrastructure. As a result, communication networks in Chungthang and Mangan districts were severely affected, hampering response efforts.
In response to the emergency, local authorities have initiated evacuations in vulnerable areas. Tragically, at the time of this report, 23 Army personnel are missing, adding to the urgency of the situation.
The Significance of Chungthang Hydro-Dam
The Chungthang Hydro-Dam is a crucial component of the 1200 MW mega Teesta Stage III Hydro Electric Project, developed by Teesta Urja. With a gross head of 817 meters and a net head of 778 meters, it plays a vital role in power generation in the region.
The breach of this dam has unleashed an astonishing 5.08 million cubic meters of water from the hydro reservoir, which is now rapidly descending down the mountains. This has raised alarms among communities living downstream.
The Implications and Concerns
The scale of the breach is a matter of grave concern, with potential consequences ranging from environmental damage to the displacement of residents in the downstream areas. It underscores the importance of stringent safety measures and ongoing maintenance in the hydroelectric sector.
This incident serves as a stark reminder of the potential risks associated with large-scale infrastructure projects and the pressing need for robust disaster preparedness and management protocols.
Current Response and Assistance
Authorities are actively assessing the situation and working tirelessly to mitigate the impact of this disastrous breach. Helpline numbers have been provided to assist residents in distress, and multiple agencies, including the Army, ITBP, SSB, SDRF, BRO, and others, are collaborating to provide support and relief.
Also Read: Sikkim's South Lhonak Lake Bursts: Flash Flood Alert
Emergency Helpline Numbers:
Emergency Operating Center: 03592-202461/201145
City Helplines:

Gangtok: 03592-284444
Namchi: 03595-263734
Mangan: 03592-234538
Pakyong: 03592-291936
Soreng: 8016747244
Gyalshing: 03595-250888

Tourist Helpline:

7001911393 (Nodal Officer)
8101426284 (Asst. Director)

Army Personnel: 9906200205 (Nodal Officer, Army)
Other Agencies:

ITBP: 03592-231340
SSB: 03592-251015
SDRF: 03592-220545
BRO: 03592-259208
ARMY: 03592-202228
As the situation unfolds, Sikkim and the surrounding regions are grappling with the aftermath of this unprecedented disaster, highlighting the urgent need for comprehensive safety measures in the hydroelectric sector.
You may also read: Flash Flood in Sikkim with 23 Army Personnel Missing
Gangtokian Web Team, 04/10/23