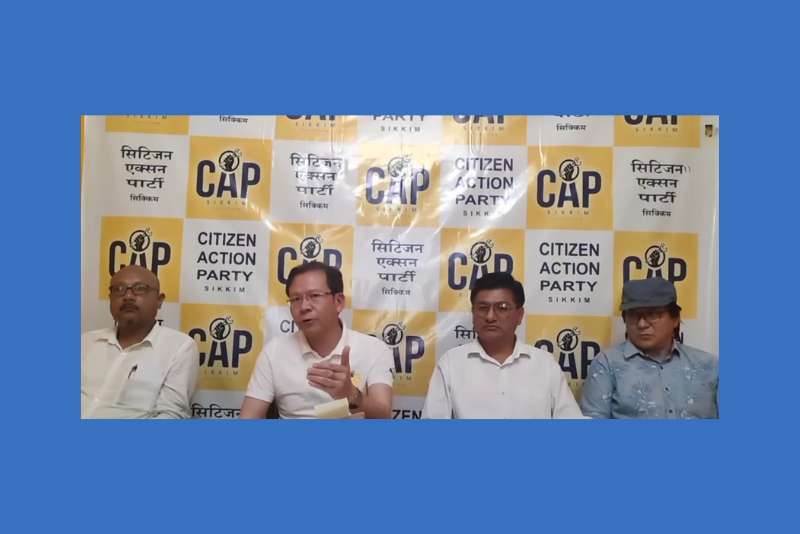 Gangtok: The recently passed State Budget for fiscal year 2023-24 has received criticism from the Citizen Action Party (CAP)-Sikkim, with their chief coordinator Ganesh Rai expressing disappointment and stating that it falls short of the aspirations of the people of Sikkim.
Rai, addressing a press conference at the CAP Sikkim headquarters, highlighted concerns regarding the budget's impact on the state's loan burden and the lack of provisions for employment generation and support for farmers. He emphasized that the fiscal deficit of the state, standing at 4.54% of the Gross State Domestic Product (GSDP), is alarming, and the government's proposal to borrow over Rs. 2100 crore this year further exacerbates the existing loan burden.
The CAP Sikkim leader criticized the budget's failure to address the skyrocketing unemployment problem and argued that it indicates a lack of policies to empower the youth. Rai also expressed concern over the declining fertility rate of the local populace and deemed the measures taken by the current SKM government as inadequate.
Highlighting the upcoming 2024 Assembly elections, Rai noted that the Budget 2023-24 is the last full budget before the elections. He stated that the total budget outlay of the SKM government over the past five years has amounted to Rs. 51,077.83 crore (excluding supplementary budget).
Rai further pointed out the financial challenges faced by the rural populace, including a decrease in purchasing power and a stagnant market. He questioned the government's delay in holding the investment summit despite announcing it. The education sector also came under scrutiny, with Rai expressing concern over the high failure rate in the recent board examinations and the issues surrounding teacher appointments and the Bahini scheme.
Additionally, Rai highlighted the need for a dedicated and planned effort to alleviate poverty, citing the continued construction of houses despite considerable spending on poverty alleviation. He also raised questions regarding the allocation of budget for payment of pending bills of contractors and the absence of specific allocation for the Skilled Youth Startup Scheme, despite the Chief Minister's mention of it in his speech.
The press conference was attended by CAP-Sikkim working president DB Chauhan and other party executives, where they collectively voiced their concerns regarding the budget and its implications for the state and its citizens.
Also Read: Former Sikkim CM Opposes Privatization of Organic University
Gangtokian Web Team, 21/05/23