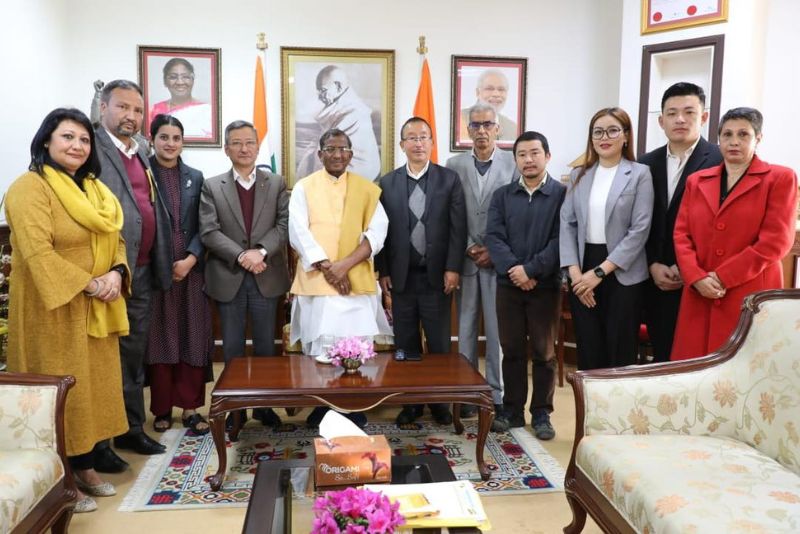 PRESS RELEASE | SIKKIM DEMOCRATIC FRONT | 16/03/2023
A delegation representing the Sikkim Democratic Front Party called on the Hon'ble Governor this morning. At the outset the delegates extended their gratitude and also congratulated the Hon'ble Prime Minister, Shri Narendra Modi, the Government of India and the Hon'ble Governor for providing the opportunity to Sikkim for hoisting the prestigious G20 (B20 and the Start Up) in the State. This will facilitate and promote to showcase Sikkim as an Organic State and boost sectors like eco-friendly tourism, hospitality industry and other suitable industries globally.
The delegates also submitted a Memorandum to the Hon'ble Governor and briefed him about the deteriorating law and order situation and lawlessness prevailing in the State. It was also brought to his notice about the repeated brutal attacks being perpetrated on several members of the SDF Party, including the attack on the properties such as the SDF Head Office in Indira Byepass Road, Gangtok and its offices at Jorethang and Namchi where several damages have been done.
The Hon'ble Governor was pleased to inform and assure the delegates that he will ensure that peace is maintained and that the rule of law as laid down under the Constitution of India will be applied in the State for the overall development of Sikkim and its people.
Bishnu Dulal
General Secy., Press & Publicity Affairs
SDF
16.03.2023