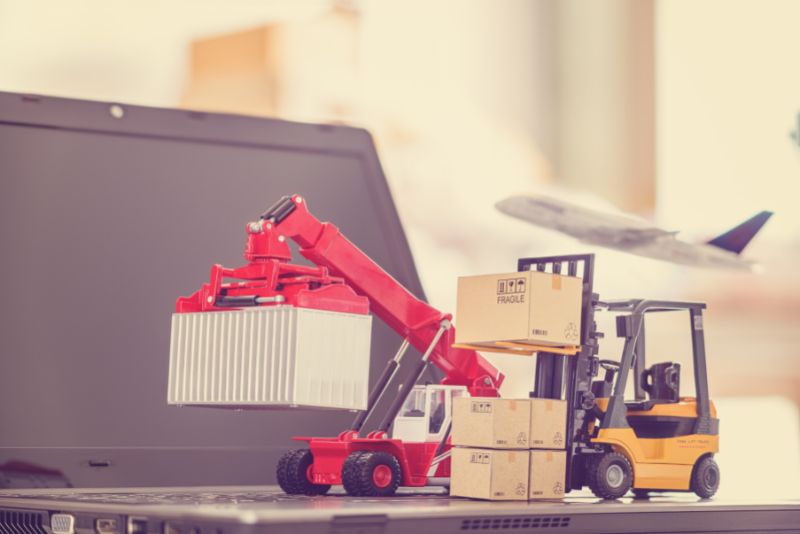 If you are looking for a career in logistics and supply chain management, then you must read this article. Here, we will talk about the scope of logistics and supply chain management for a professional career and if you can further your career as a supply chain professional. Logistics management is one of the most challenging and rewarding careers. As a student, it may look like a long and tedious process of packing orders and processing paperwork over extended hours. But you'll soon find out that it's not all work, no play!
Similarities and Coordination
There are plenty of similarities between supply chain management and logistics. Supply chain logistics handle the storage and shipping of goods and services across the entire supply chain. The practice begins with raw materials, continues on to manufacturing and/or distribution, and ends when a company delivers a finished good to a customer.
The more closely supply chain management (SCM) and logistics are coordinated, the easier it is for an organization to provide superior customer service. Along with planning, coordination and collaboration, logistics activities include transportation, storage and shipping. Both SCM and logistics play significant roles in building a competitive advantage.
Introducing C3S Business School
Established in 2014, C3S Business School (Castelldefels School of Social Sciences) is a fully accredited private business school, registered with the Spanish Ministry of Education. Our campus is located in the very heart of one of the most vibrant and diverse cities in the world. We offer internationally accredited foundation, bachelor's, master's, MBA, and doctoral programs taught in English. The education model is based on the fundamentals of pragmatic learning and the application of theoretical aspects to the practical realities of the business world; thus, we emphasize on a purely assignment-based study method for academic programs.
The students of the C3S Business School have a diverse international backgrounds. More than 90% of students enrolled in the varied programs offered are international, hailing from more than 25 countries.
Our students may benefit from the city's renowned entrepreneurial ecosystem, cosmopolitan culture, and Mediterranean flair by attending a business school in Barcelona.
Also, students obtain exclusive insights into how firms truly function through corporate visits and guest speaker engagements, among other activities, providing them a competitive advantage in today's fast-paced business world.
Through a varied curriculum, our programs introduce students to the world of international business. Small class sizes allow for a more tailored approach, and our programs being taught in English, empower students to communicate across boundaries.
We offer the most modern and blended curriculum. We strike a balance between classroom face-to-face instruction and a state-of-the-art E-Learning platform. Our dynamic and participatory teaching techniques for a hands-on business education that develops entrepreneurial thinking are reaffirmed by case studies.
C3S faculty members are not only innovative thinkers and experienced educators but are also change-makers in their fields of expertise and our day-to-day operations are managed by a highly competent and dedicated academic and administrative staff that make sure that the students have everything they need.
Scope of Logistics and Supply Chain Management
The objective of the Master in Logistics and Supply Chain Management qualification is to broaden learners' understanding of Supply Chain Management. It is designed for those who wish to prepare for a professional role and future career in the field. It is also suitable for Master in Logistics and Supply Chain Management professionals in the early stages of their career looking to enhance their knowledge and skills and move to the next level professionally.
Completing this qualification will equip learners with the specialist knowledge and skills needed to further their careers as supply chain professionals.
After earning this degree, you could work in dispatch, supply chain analytics, scheduling, or quality control for a while, or even as a project manager in SCM, but you'll eventually be able to advance into jobs like:
Inventory manager
Materials manager
Procurement manager
Production manager
Supply chain manager
Transportation manager
Warehouse operations manager
The major sub-fields of work can be Procurement and supply management, freight transportation, warehouse design and management, distribution network design and planning, inventory management and control, and supply chain design and production planning.
Graduates of master's degrees are eligible for some of the highest-paying roles in supply chain management. Global supply chain manager, director of supply chain management, and vice president of supply chain management are examples of these positions.
Our school is located in the vibrant city of Barcelona, also known as the start-up capital of Europe. The city's atmosphere and culture ensure both professional and personal growth. In the vicinity of all types of public transport – metro, trains, and buses, C3S Business School is at the very heart of innovation and the creation of knowledge.
The city's atmosphere and activities ensure professional and personal growth. Our campus is 15 minutes away from the famous Plaza Catalunya and picturesque Paseo de Gracia. In the crossroads of the metro, trains, and buses. C3S is at the very heart of Innovation, invention, and creation of knowledge and expertise.
Takeaways:
The question of what logistics and supply chain management actually is may surprise you. Even though it's a broad industry, it's not quite as varied as you might think. And the biggest takeaway—which applies to any major you're considering—is that having a solid understanding of the basics will serve you well in any field. By learning what logistics and supply chain management entails, you'll be better prepared to make informed decisions about your future career.
Completing this qualification will equip learners with the specialist knowledge & skills needed to further their careers as supply chain professionals.
For more inquiries contact us at (https://bit.ly/3S2tZXd).
Also Read: Will robots eventually replace humans?
Gangtokian Web Team