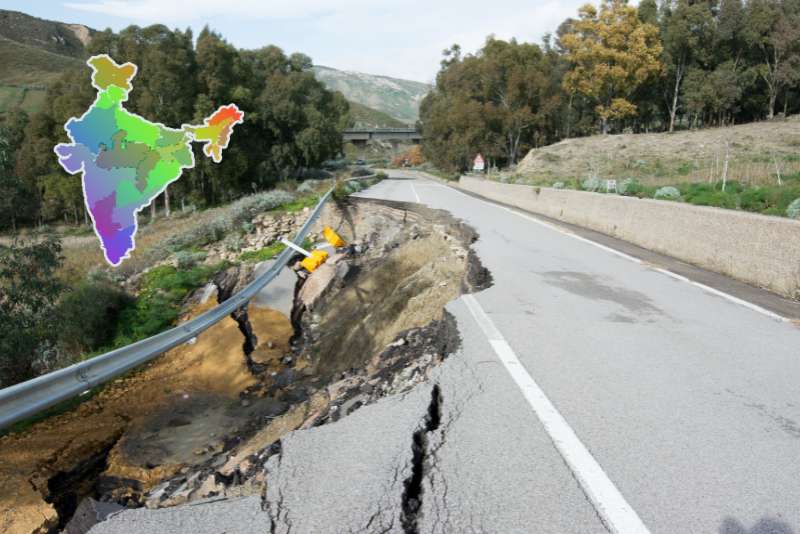 Gangtokian News Desk: In response to the escalating threat of landslides and associated fatalities in the Himalayan region, the Indian government has set forth a pivotal proposal to establish a 13-member technical committee. The committee's primary objective is to assess the "carrying capacity" of the 13 Himalayan States, a move propelled by mounting concerns and a directive from the Supreme Court to reevaluate the load-carrying capacity of hill towns and cities.
A Call for In-Depth Evaluation
The pressing need for this comprehensive assessment was underscored by Additional Solicitor-General Aishwarya Bhati, representing the Environment Ministry. Bhati emphasized the necessity of acquiring precise factual information for each hill station, collaborating closely with local authorities from diverse fields. The goal is to ensure a comprehensive understanding of the unique ecological conditions in each area.
Preceding Government Initiatives
The Union government had previously issued guidelines in January 2020 to the 13 Himalayan States, urging them to evaluate the carrying capacity of their hill stations, cities, and eco-sensitive zones. A reminder issued on May 19, 2023, urged states to expedite these crucial studies and submit their action plans without delay.
Urgent Action Required
Presently, the government is calling upon the Himalayan States to submit their action reports and plans within a defined timeframe. The importance of detailed information cannot be overstated, as it will serve as the foundation for an accurate assessment of carrying capacity, aligning with guidelines provided by the GB Pant National Institute of Himalayan Environment.
Collaborative Efforts
To facilitate this ambitious undertaking, the government is advocating for each state to establish committees led by their Chief Secretaries. These committees will play a pivotal role in collecting crucial information on load-carrying capacity. Additionally, a 13-member technical committee, to be chaired by the Director of the GB Pant National Institute of Himalayan Environment, will be entrusted with evaluating the amassed data. This expert panel will comprise professionals from diverse disciplines, including hydrology, remote sensing, Himalayan geology, forestry, wildlife, architecture, disaster management, pollution, and groundwater protection.
Judicial Backing
In August, Chief Justice of India D.Y. Chandrachud's Bench made a noteworthy recommendation, advocating for the formation of an expert committee to conduct an exhaustive study on the Himalayan region's carrying capacity. This recommendation was prompted by the adverse consequences of unplanned development in the region, necessitating a comprehensive assessment.
Defining Carrying Capacity
The term "carrying capacity" refers to the maximum population size an ecosystem can support without experiencing degradation. This assessment is pivotal in safeguarding the fragile Himalayan ecosystem and ensuring sustainable development in the region.
As the government's proposal gains momentum, it marks a significant step toward safeguarding the Himalayan region's ecological balance and the safety of its inhabitants in the face of growing environmental challenges. The formation of the 13-member technical committee represents a collaborative effort to ensure a well-informed and sustainable future for these picturesque landscapes.
Gangtokian Web Team, 05/09/23