Gangtok: The devastating floods that struck the northeastern state of Sikkim have left a heartbreaking toll in their wake, with 56 lives tragically lost and 27 bodies recovered so far. The Sikkim State Disaster Management Authority has reported that 141 individuals remain missing, while 26 others are hospitalized due to severe injuries.
Widespread Impact
The catastrophe has unfurled across 27 villages spanning four districts of Sikkim, affecting a staggering total of 25,065 residents and causing damage to 1,203 houses. The flash floods, triggered by Lhonak lake burst, have plunged the region into a severe humanitarian crisis, demanding urgent and extensive relief efforts.
Ongoing Search and Rescue
Search and rescue operations are underway, with dedicated state and national teams working tirelessly to locate and provide assistance to the missing individuals. Thus far, 2,413 people have been successfully rescued by these relentless efforts. These operations remain a top priority as authorities work around the clock to reunite families and ensure the safety of those affected.
Relief and Shelter
In response to the scale of the disaster, 22 relief camps have been established, providing shelter and essential support to 6,875 people who have been displaced by the flash floods. These relief camps are lifelines for those who have lost their homes and livelihoods in this catastrophe.
Honoring the Fallen
Among the victims are eight Indian Army personnel who were stationed in the affected areas, highlighting the sacrifices made by those dedicated to protecting their communities. The loss of these brave individuals is deeply felt, and their service is remembered with gratitude.
A Unified Response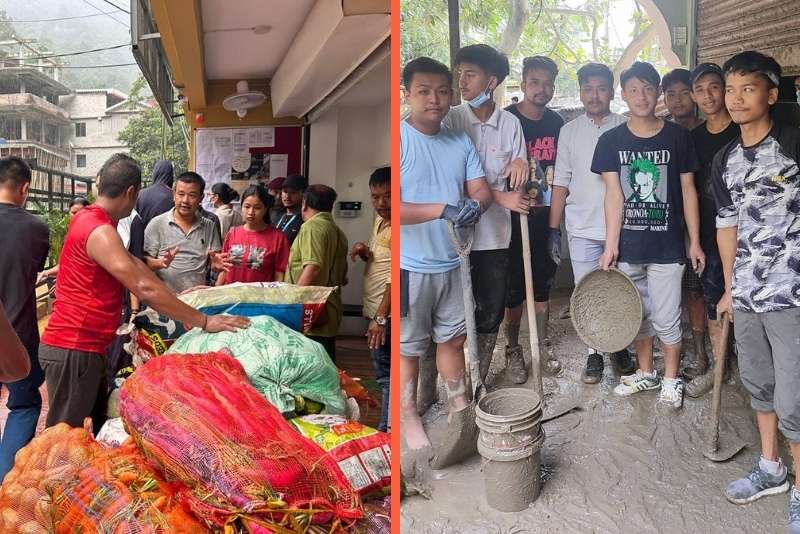 The situation remains dire, but there is a unified response from local authorities, government agencies, and non-governmental organizations. Together, they are working tirelessly to provide relief, support, and a sense of hope to the affected population.
As the people of Sikkim grapple with the aftermath of these devastating floods, the nation watches, extending thoughts, prayers, and support to those affected, with hopes for the safe return of the missing and the gradual recovery of the region.
Also Read: Chungthang Residents Stranded for 4 Days, Question Rescue Operations
Gangtokian Web Team, 08/10/23